About us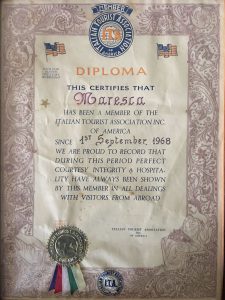 MARESCA GALLERY was founded by Roberto Maresca as "Maresca Art Gallery" over a hundred years ago and operates on the international market in the trade of original paintings. We can offer works by important and quoted Italian and foreign artists, as well as provide decorative paintings of gender, style and varied cost. Periodically we enrich our offer with works by new artists to stay always in line with the evolution and new trends in art. Art galleries and designers can contact our gallery with the certainty of being able to meet every need, thanks to the professionalism and skills acquired over decades of presence on the market.
We also offer the possibility to directly purchase our online works by visiting our shop.
MARESCA GALLERY è stata fondata da Roberto Maresca come "Maresca Art Gallery" oltre cento anni fa ed opera sul mercato internazionale nel settore del commercio di dipinti originali . Possiamo offrire opere di importanti e quotati artisti italiani e stranieri, come anche fornire dipinti decorativi di genere, stile e costo vario. Periodicamente arricchiamo la nostra offerta anche con opere di nuovi artisti per rimanere sempre in linea con l'evoluzione e le nuove tendenze dell'arte. Galleristi e designer possono rivolgersi alla nostra galleria con la certezza di poter soddisfare ogni esigenza, grazie alla professionalità e le competenze acquisite in decenni di presenza sul mercato.
Offriamo anche la possibilità di acquistare direttamente le nostre opere on line visitando il nostro shop.